One afternoon in recent history, my friend Paul and I were having a
High Fidelity
moment, discussing our top ten bands, etc. I often find myself saying "Oh yeah, X is in my top ten, EASY." Yet the more we talked about it, the more I questioned how solidly formed my top ten list of artists actually was. We collectively came up with a scheme: all of our music geek friends would create a cd of ten songs, one per artist, comprising their top ten artists/groups of all time. The song choices are to be what the mixmaker considers to be the most representative of that artist's oeuvre. Once the mixes were made, we're all to meet, have some drinks, and share our cds. The idea is that during each person's disc, they justify their choices of both song and artist to spark discussion and debate.
Yeah, we're geeks.
This was more difficult (and more interesting from a personal perspective) than I had anticipated. I pretty quickly got 6 or 7 artists locked in, but those last few choices were very difficult. In the end, I'm pleased with my choices, and it was an interestingly reflexive exercise just to compile this list/cd.
So for shits and giggles, I thought that I would share my list and justifications here. I also want to point out that I decided to sequence the cd in the order in which I got into the respective artists. That is, of this list, I first got into the band represented by track one, and most recently the band on track 10. This was more for me than anything else, out of a curiosity in tracing the development of my musical tastes.
You will note the lack of any hip hop. This is regrettable. Public Enemy would normally have been my choice for inclusion. However, I've recently begun to question whether The Roots have actually surpassed PE as my favorite hip hop group of all time. Granted, it's a moot point as neither made the cut. The only reasoning I can couch that in is that these ten artists are simply closer to the core of my musical being.
And now on with it: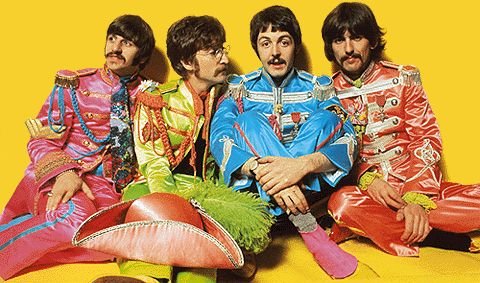 1. The Beatles - "A Day in the Life" (1967)
I first got into the Beatles when I was in 8th grade. Certainly, I'd been exposed to them previously via my parents. But it's incredibly unhip to like the same music that your parents listen to when you're 12. As one of my musically-minded pals started exploring them, I was sucked in. Amusingly enough, I hid this from my parents for a while, listening to their vinyl copy of
Sgt. Pepper
when they went out on Saturday nights (note that this LP now resides happily in my collection).
The Beatles were a no-brainer for inclusion on this list. I know people that don't like them, think they're overrated, etc. I can respect that, I guess. But for my money, they're the best rock/pop group of all time. Their songwriting is unparalleled. They single-handedly reconfigured how we think about popular music, and their influence extended well beyond the music. They truly were (and remain) a cultural phenomenon. Although it sounds pretty pompous coming from Paul McCartney, I think it's true that people will look back of the 20th century and regard the music of the Beatles with a reverence similar to our treatment of Beethoven. To an extent, that's already happening.
This song selection was also an easy one to make. This is hands down my favorite Beatles song. It's everything that I love about them packaged into one piece: vivid yet heartfelt lyrics from John, a middle-eight interjection of Macca bippity-boppitiness, a seemless song structure, incredible production from George Martin, and an intensity built up throughout the track that goes unresolved until that famous chord at the end.
2. David Bowie - "Rebel Rebel" (1974)
I would place my introduction to the Thin White Duke about a year or two after I got into the Beatles. A bandmate of mine was a bit of a Bowie fanatic, and I respected his opinion pretty highly. So I began to listen. I think that I again started with a cassette copy of
Changesbowie
that my mother had (but honestly, I don't think she gave it much play). From there I bought
Ziggy Stardust
and quickly became immersed in the world of Bowie.
As an artist, he was another easy pick for my list. From
Hunky Dory
(1972) through
Scary Monsters
(1980), Bowie's output is one of the most solid and diverse strings of albums in rock music. Folk-pop, glam, blue-eyed soul, concept albums, experimental and ambient music - Bowie executed all in a near flawless manner.
As for the song, this was another easy choice. This may not be my overall favorite Bowie song, but it is potentially my favorite of the hits. I chose it not for that reason, but because I do feel that it is a fairly definitive Bowie song, despite the amount of creative ground he's covered. I'd certainly make no bones about proclaiming "Rebel Rebel" the definitive glam rock song.
3. Frank Zappa - "Didja Get Any Onya?" (1970)
I was turned onto Zappa via a kid I had study hall with when I was a freshman. the
Strictly Commercial
compilation had just come out, and Zappa was all this kid talked about for a week. Finally, he let me borrow the disc, and I understood why he'd become obsessed. Although it's impossible to make an adequate single disc retrospective for someone who released 60+ albums, even the limited breadth of
Stictly Commercial
was enough to tip me off that this guy was in a class all his own. As I continued to explore his work, I only became more amazed at his compositional style, humor, wit and variety of styles (rock, doowop, classical, electronic, experimental, etc. etc.). Over the years I've picked up somewhere around 30+ of his albums, and my collection is still only half complete.
For all of these reasons, FZ was another shoe-in. In addition to being a fantastic guitarist and a stinging social commentator, what is perhaps most unique about Zappa is his approach to rock music. Zappa was a lover and student of orchestral music. Being schooled in this tradition, Zappa truly took a compositional approach to his songwriting, and its evident on pretty much every album. There's always so much going on, often in different time signatures (some of which I can never quite figure out, but they work).
I didn't have a song off the top of my head. Along with "Didja Get Any Onya," "Peaches en Regalia" and "The Chrome Plated Megaphone of Destiny" were in the running. The latter was cut for length, and I ultimately went with "Didja" because I think it's more representative a song than "Peaches," and exhibits what first sucked me into Zappa. It has this experimental jazz vibe, there are a series of odd sections that only FZ could string together, and it also shows his impeccable sense of humor.
4. Talking Heads - "Crosseyed and Painless" (1980)
The Talking Heads were another band that I got into in early high school. I'm not quite sure how or why I decided to go beyond what I'd heard on the radio, but I bought the 2-disc
Sand in the Vaseline
collection and was hooked. They're also one of the few bands that although I had all of their albums, rebuying them in the remastered
Brick
set wasn't even a question (and it was a good choice - the remasters sound amazing).
Although I can't say that I like all of their albums equally, I do feel that the Talking Heads' catalog is consistently pleasing from start to finish. Sure, I don't find their work from
Little Creatures
quite as adventurous or engaging, but they are nonetheless solid in my book. The band had a keen sense of pop, funk, r&b, rock, afrobeat and to a lesser extent, country and western. Yet rather than produce albums and songs that oscillated between these genres, what makes the Heads so great is that their music is truly hybridic of these diverse sources. And of course Byrne writes great lyrics, alternately intriguing in their complexity or sublime in their simplicity.
This is not my favorite Talking Heads song (thought it is one of them). If I had to pick a favorite, that would probably go to "This Must be the Place (Naive Melody)." However, the goal here was to pick a song that most represents the artist. I think the first time that I really got hooked on this song (despite having already been familiar with it) was at a club in Pittsburgh a few years ago. A friend of a friend had a one-off DJ gig and threw this into the mix. Initially, I was just excited to hear a track that I'd never heard in a club before. But I quickly realized how great of a dance song it is, yet certainly not a typical one in the pop world. When I got the
Brick
for my birthday last year, I'd been listening to Fela Kuti pretty much non-stop for a week prior. Listening to the Talking Heads catalog straight through right after this, I was struck by how much the Heads were really drawing on Fela on some of their records. This track really illustrates that well. The overlapping polyrhythms, the vamp structure, the tense vocals - perfect.
5. Prince - Erotic City (7" edit, 1984)
I haven't disclosed this to too many people, but I might as well. I got into Prince because of a girl. It was my sophomore year in high school and the girl I was dating had a copy of
The Hits 1
in her car, which we listened to constantly. I was reminded how great Prince's hits were, so I bought
The Hits 1
and
The Hits 2
, figuring that would be all I needed. Within a year's time, I had purchased Prince's entire catalog. The rest is history.
There was no question that Prince would be here. What can I possibly say about Prince that I haven't ranted about already? Anybody that's rapped music with me has heard my spiel (and I imagine that anyone who's had drinks with me has also heard me rant on Prince). Not a flawless career by any means, but easily one of the great talents of 20th century popular music. As a composer, producer, lyricist, multi-instrumentalist and performer, Prince excels on pretty much every level. Yes, there are plenty of duds too. But when he's on, he's out of this fucking world. Although I'm not ready to say that he's my second favorite artist of all time (next to the Beatles), I can say that he's the only one who's music has affected me in the many ways that the Beatles' music has.
In thinking about the most representative Prince songs, it ultimately came down to this and "DMSR." Either would have worked for me, but in the interest of time, "Erotic City" had a single edit, so I went there. But that's not to say it's second best to "DMSR." Like much of the material in the 1982-1984 period, "Erotic City" is a killer dance track, and an inevitable floor filler. The lyrics are wonderfully filthy, Prince debuts the Camille vocal effect, and that bass line is absolutely sick. I put this on a mix for a friend in college who responded by saying "If I was a DJ at a club, I would play 'Erotic City' every night." Oh, and let's not forget Sheila E.!
6. Funkadelic - "One Nation Under a Groove" (1978)
Perhaps more than any other artists, Prince was a gateway. Through Prince, I got very into funk, soul and r&b, spanning decades. P-Funk was one of the earliest of these groups. I wasn't much into hip hop in high school, but P-Funk was a meeting point with the kids that were. I hated DMX, they hated Nirvana. But we could all get up for the downstroke.
I've only gotten more into P-Funk over the years. Someone once told me "once you get into them, you'll want everything that they ever recorded." This is true, though I still have a long way to go in filling that collection. Nonetheless, P-Funk is undoubtedly a key hinge of black popular music. They're the bridge from James Brown to Dr. Dre. Their influence on hip hop is absurdly huge. Just check this (admittedly out of date) list of songs sampling P-Funk. Any by the 1990s, George Clinton became a little more involved in the hip hop of the day, appearing on video and record alongside the likes of Tupac, Ice Cube, and Dr. Dre. I won't say that these artists wouldn't exist without P-Funk, but they would be fundamentally different. As would Prince and countless others.
I actually wanted to put "(Not Just) Knee Deep" as the most representative track, but given that it's 15 minutes long, I opted for the shorter yet equally significant "One Nation Under a Groove." Here the band's bridging role is emphasized ("can I get it on the good foot? good god!") and it is the undisputed national anthem of funk music.
7. Stevie Wonder - "Living for the City" (1973)
Stevie was another artist that I quickly got into through Prince. He's also another artist with whom I started with a compilation (
Original Musiquarium
) that I quickly realized would simply not be enough. I delved more deeply in college, where I also learned that Stevie Wonder is apparently one of those artists that everyone seems to like.
The precedent set by Stevie Wonder is incredible. Writing, arranging, producing, composing and frequently playing most (if not all) of the instruments on some of the most important music of the 1970s. I love a lot of the Motown stuff. While there's something to be said for the crafting of pop and the Motown sounds of the Miracles, the Supremes, the Temptations, et. al., by the 1970s Marvin Gaye and Stevie Wonder were literally in their own universe of creativity. Stevie's evolution as an artist can be paralleled to the Beatles. He started out crafting polished pop and soul music (respectable in its own right) but soon evolved into unchartered territory as a musician, lyricist and producer. His "'70s string" of albums - from
Music of My Mind
through
Hotter than July
- is one of the most solid and consistent catalogs in popular music history (see also Bowie above). I was actually not anticipating including Stevie in my top 10. But when I started thinking about criteria, about what makes an artist exceptional for me (consistent quality, adventurousness, impact, etc.), it became obvious that there was no way to exclude Stevie Wonder.
"Living for the City" always sticks out for me, even from the time that I had only
Original Musiquarium
. Here's an insanely funky track with an uncompromisingly socially conscious lyric and a song structure that never fails to impress (those backups, the "da-da-da-da da-da daaaa" bridge, the handclaps, the 'skit,' etc.). My only disappointment with it was when I heard a 3 minute edit of the track, which sucked the life out of it completely.
8. Iggy and the Stooges - "Search and Destroy" (1974)
Well now there's a change of pace! In high school I had a friend who went by 'Cubby.' Cubby's most significant contribution to my musical development was punk music. The Misfits, The Clash, The Dead Kennedys - all the greats. Of course, whether the Stooges were a 'punk' band is up for debate. By the time of
Raw Power
, I've seen them labeled as punk, proto-punk, glam and I'm sure other things as well. At any rate, from the moment that Cubby played the
Raw Power
album for me, I was blown away. I'd never heard anything like it. I hate to use cliches, but in the case of
Raw Power
, 'sonic assault' is a totally appropriate descriptor. I couldn't get over how much the songs rocked on their own merit, but were pushed to the limits by having everything seemingly in the red. The album could not have a more appropriate title. It's also worth noting that at our first show, my last high school band opened with this song.
The Stooges are one of those bands - only three albums to their credit, but one of the most lasting influences on rock music that followed it. Iggy's gone on to do some great stuff on his own, of course. But those three albums are unstoppable. In a sense, "I Wanna Be Your Dog" became the "Louie Louie" of the next generation in that every shitty band in their parents' basement knew how to play it.
Fun House
is an essential album, and one of the most solid rock records of all time. Personally, I oscillate between
Fun House
and
Raw Power
as my favorite, but that's another conversation altogether.
I had to go with "Search and Destroy" here. Partially because it was the first Stooges song I heard, partially because I think it encapsulates their energy, lack of compromise, and force extremely well. I don't have much else to say. As Iggy said of the
Raw Power
remaster, "The proof's in the pudding."
9. The Pixies - "Debaser" (1989)
I won't lie - I got into the Pixies through Nirvana. Although I think that's true of a lot of folks my age. A friend and I recently had a discussion on the matter - how much of the Pixies' popularity is attributable to their influence on Nirvana? An interesting debate. Regardless, I first heard
Doolittle
driving around with a guitarist friend of mine in high school - the same one responsible for Bowie. I'd always thought the Pixies were more of a punk band (not sure why). There's an element of that there, I suppose, but there's also a well schooled knowledge of rock and pop. Perhaps that melding is what makes them so interesting. I actually like all of their records, including
Bossanova
and
Trompe le Monde
. But the one-two punch of
Surfer Rosa
and
Debaser
is where my heart lies, for sure.
I've been into the Pixies since high school, but only recently have I really come to appreciate them as an historically unique/significant group. I saw an interview with Bowie where he applied the old Velvet Underground adage to the Pixies. You know the one - not a lot of people bought VU records, but everyone that did started a rock band. It's of course a generalization, but it does speak to the lasting influence of both bands. I could easily see the Pixies having a VU-style status in the coming decades - a group that might not be as canonic as say, the Beatles, but one which people keep coming back to and rediscovering.
I had a few choices as to representative tracks. I believe also in the running were "Monkey Gone to Heaven" and "Hey." But really, "Debaser" is where it's at. I think it's safe to argue that this is the definitive Pixies song. Black's lyrics, that unforgettable bass->guitar-> intro. Oy. Friends of mine in college always started their radio show with this song. And you know what? It never got old. "Slicin' up eyeballs."
10. New York Dolls - "Personality Crisis" (1974)
We start in 1967 and end up in 1974. Hm.
The New York Dolls are a band whose name I'd heard for years before I ever actually heard their music. Mostly, I think this came from my obsession with Guns n' Roses, whom often cited the Dolls as an influence. In college I worked at a used cd store. The store itself was kind of crappy, but I did get dibs when interesting things came in. One day I found the first Dolls cd there, and snatched it. I fell in love with it instantly.
Like the Stooges, the Dolls are often labeled in interesting ways - glam, punk, protopunk, boogie, whatever. I suppose my initial pleasures with them came out of the glam element. I just love their attitude, their sense of melody, their obvious love of girl group structure and production. Like the Pixies, I've been into the Dolls for a while. But it wasn't until maybe two years ago that I ranked them so highly in my book. Despite only two (three if you count 2006's
One Day it will Please us to Remember Even This
) albums to their credit, the Dolls were sublime. They pulled so heavily from 1960s girls groups and early rock, yet had an attitude more aligned with coming punk 'movement.' Like many great artists, they wore their influences on their sleeves (blouses?), but expressed those influences in ways that were utterly unique to the band.
A few possibilities for songs here. In the end it was really down to "Personality Crisis" and "Trash." The latter is probably my favorite Dolls tune, and exhibits everything that I love about the band. But "Personality Crisis" is also a fairly summative statement on the band. In the end, I asked myself "What song would you play for someone who's never heard the New York Dolls before?" The choice then became obvious.
Runners Up
These were the groups that it was **really* difficult to cut, but alas:
If you've made it this far, kudos! What's your definitive top 10 (at the moment)?